Hearty Vegetable Soup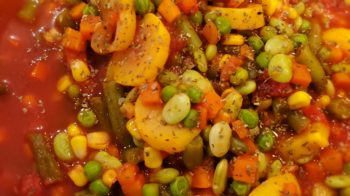 Hearty Vegetable Soup by Chop Friendly
Come on in from out of the brisk winter cold and warm up with this delightful bowl of goodness. We bet you will want to curl up and snuggle with your favorite blanket while enjoying this! Pair this with some fresh corn bread or buttery yeast rolls and you are in for a treat. Let us know what you think!
Ingredients
1 12oz. Bags of Mixed Vegetables
1 15oz. can of tomato sauce
1 can of drained Rotell Tomatoes/1 can stewed tomatoes
1 cup of lima beans
1 cup of squash
½ cup of water
¼ clove garlic or ¾ tsp of garlic powder
3/4 tsp of onion powder
¼ tsp sea salt
¾ tsp black pepper
1 ½ tsp basil
½ tsp of Italian seasoning
1 tsp of red pepper flakes (optional)
Bring water and 1 bay leaf to a boil in a large pot. Add in mixed vegetables, lima beans, and squash. Let cook for 20 minutes on medium high heat. Reduce heat to low and add in tomato sauce. Next, drain and add in tomatoes. Combine garlic, onion powder, sea salt, black pepper, basil, Italian seasoning, and red pepper flakes and add to pot. Stir. Then allow to simmer for 15 minutes.
Serve Hot! Enjoy!.